Here are some photos and feedback from Ambassadors and customers that have used our products recently.
Quarter Marking Spray 500ml - RRP £13.95
This spray is formulated specifically to set and hold quarter marks and brush designs ensuring a perfect final finish which lasts all day without leaving a sticky residue. Here's what Georgina Lea had to say. "Today I tried the Quarter Marking Spray and I loved it! We have found it very hard to get quarter marks to show up on my Dun pony but now I have found the perfect product and it even stays in despite pulling rugs on and off during the day." Just spray over the area that needs marking up, use a stiff bristled brush for brushing the hair the "wrong way" first, then apply the marks, spray over again and leave to dry for a couple of minutes.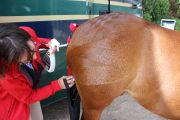 Polar White 500ml spray - RRP £9.95
This is our latest whitening and stain removing spray giving exceptional results for any areas that need a bit extra whiteness or stain removal. Before and after photos sent in by Abbie Hurst and Emma Didlick. "Fabulous results with little effort!" - "Easy to use, and really did whiten up the dull areas and remove brown stains". To have a quick spray solution to use for last minute stains and dirt is a really great idea commented Emma. Abbie said "We are always looking for products to whiten and clean lots of feather on my traditional, this was a god sent and worked its magic very well, ended up with super white socks and feathers"
Perfect for removing stubborn stable and grass stains, and to whiten socks and tails and any other light coloured areas. Best to damp the area that needs cleaning, spray on the stained area, massage in with brush, leave for 5 minutes, then rinse of thoroughly.
Show Make Up - RRP £8.95
Used to enhance the depth of colour and also helps cover up blemishes. It is available in black, white and brown and can be used with Enhancing Gloss or Super Shine to blend in and merge the colours. Sophie Petit has used the make up to cover blemishes on and ex-polo pony and reports back, "This has been a great product for us to use to cover white hairs and blemishes and covers really well. Especially good to blend in with Super Shine lotion". Apply with a sponge and massage in carefully (best to wear protective gloves to prevent hands being stained!).
Deep Purple Whitening Shampoo 500ml - RRP £9.95
Definitely the secret weapon to have in your wash kit if you have a grey, white or light coloured horse or pony. The enhanced formula neutralises and lifts out yellow staining whilst having a relaxing lavender fragrance. Can be diluted for general washing or used neat on particularly difficult stains. Fabulous rich shampoo which really does make the difference between fairly white and dazzling white, great also on darker horses, really seems to bring out the shine" Christa Davis (shown below)
"To all those of you even considering this shampoo, just buy it you will not be disappointed. I have four piebalds from youngsters to HOYS contenders. This shampoo is, without a doubt, the best I have ever used, the results are phenomenal. I top this off with Tame the Mane and it has made my life so easy it doesn't just work the day you bath then I spray the Tame the Mane and it repels dirt in between washes. If you are hesitant about using or buying it, don't be you will be amazed!!". Michele Cooper
Smart Tails - RRP: from £16.00 - £36.00
The original humane and effective mane and tail thinning rakes. Struggling to thin and tame unruly manes and tails? Smart Tails will give you the show ring finish in minutes with no pain to your horse and safe for you to use too. If you are looking for that smart grooming professional "pulled" look or just want more definition and less bulk to the mane or tail, then choose from either coarse, medium, fine or super fine grades depending on the finish.
Fine - for tails that have already been pulled and just need a quick tidy. Ideal for soft/fine hair
Medium - Good for the average tail type and will cope with medium/soft hair
Coarse - Good for thick full tails which haven't been tidied before and are very coarse. Also very good for natives that are being shown, and the end result needs to look tidy but with definition.
"I bought a Smart Tails yellow handle medium to sort out the thick mess of a tail that my horse had after a winter roughing it in the field. I really couldn't believe that it was so quick and easy, you read all about these, but it's really not until you try it that they do really really work!! The finish was stunning, and when it had been damped and tail bandaged and then after an hour I removed it - it was perfect, just like a pulled tail but even better - amazing product - can't recommend it highly enough. Thank you" Sarah Graham.
Smart Tail Yellow Handle, - all four grades Smart Tails before & after
photo credit: Liv Aulton